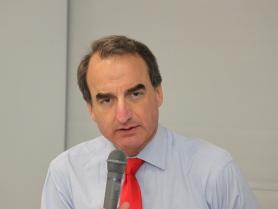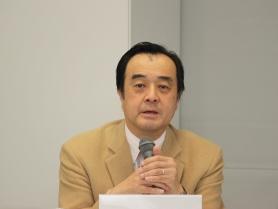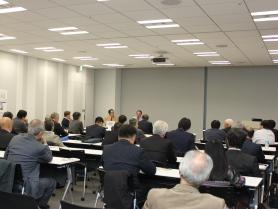 (左からアイザックソン氏、宮家氏)
開催概要
題目: 「Trump's Middle East Policy and the Revival of Anti-Semitism」
発表者: ジェイソン・アイザックソン(Jason Isaacson)
(AJC Associate Executive Director for Policy and Managing Director, Government and International Affairs)
モデレーター: 宮家 邦彦 (キヤノングローバル戦略研究所 研究主幹)
プログラム
ProgramPDF: 214KB
発表概要
An experienced Washington-based Middle East expert speaks about the recent development in the region as well as in the United States, particularly about Israel's relationship with the Arab world including the burgeoning of ties with numerous Arab states. AJC (American Jewish Committee)'s Associate Executive Director also speaks about recent anti-Semitism in Europe and the U.S..
発表者略歴
ジェイソン・アイザックソン(Jason Isaacson)
Jason Isaacson, AJC Associate Executive Director for Policy and Managing Director of Government and International Affairs since 1991, is a longtime analyst of U.S. political and strategic affairs and an advocate for Arab-Israeli peace. An observer to the 1991-92 Middle East peace talks in Madrid, Moscow, and Washington, he represented AJC at the 1993 World Conference on Human Rights in Vienna; since 1993, he has coordinated periodic AJC ministerial meetings throughout the Middle East, North Africa, Europe, and Asia, including numerous visits that were the first by an American Jewish civic organization. He has lectured periodically at the Diplomatic Institute of the Egyptian Foreign Ministry and the Jordan Institute of Diplomacy. In 2002, he was a Senior Visitor at St. Antony's College, Oxford University. Isaacson directed an AJC initiative to strengthen transatlantic cooperation on Middle East policy - resulting in the opening of the Transatlantic Institute in Brussels in 2004. In 2005, in Tunis, he convened an NGO seminar on tolerance-promotion on the Internet, in conjunction with the UN World Summit on the Information Society. In 2015, he coordinated in Brussels the Defining Moment for Europe conference on strategies to combat resurgent anti-Semitism. In 2007, the French Minister of Culture and Communication awarded him the rank of Chevalier of the Order of Arts and Letters. In July 2009, King Mohammed VI bestowed on Isaacson the honor of Chevalier of the Order of the Throne of the Kingdom of Morocco.