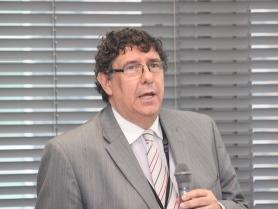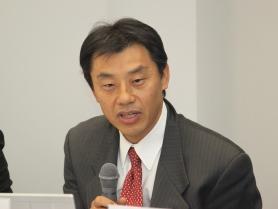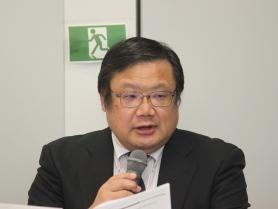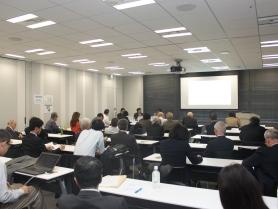 (左からSaich氏、西田氏、栗原氏)
開催概要
題目:「The US Administration's Asia Policy」
発表者:Anthony Saich, Professor, Harvard Kennedy School, Distinguished Visiting Scholar, CIGS
コメンテーター:広島市立大学 国際学部 准教授 西田 竜也
モデレーター:キヤノングローバル戦略研究所 研究主幹 栗原 潤
プログラム
ProgramPDF:90KB
発表資料
発表資料PDF:325KB


講演要旨と質疑応答
講演要旨PDF:368KB
質疑応答PDF:395KB


発表概要
After Election Day in the United States, the president-elect will have to deal with a number of issues in Asia centering on China. With China making a strong push in the region using incentives such as the development of the BRICs bank, the AIIB and One Belt-One Road and adopting a more assertive policy with respect to sovereignty, the new administration will have to decide whether to continue the previous policies of engagement or adopt a stronger approach to combat China's increasing influence. Is the divide between an economic Asia dominated by China and a security Asia dominated by the US a danger? What might the US do to ameliorate this situation? Will TPP be carried through and what are the consequences if the US pulls back? Is China wooing former allies of the US, such as Thailand and the Philippines away?
発表者略歴
Anthony Saich (Distinguished Visiting Scholar, CIGS)
At the Harvard Kennedy School (HKS), he serves as a professor of international affairs, director of the Ash Center for Democratic Governance and Innovation and of the Rajawali Foundation Institute for Asia, and Faculty Chair of the China Programs.
He is active in the broader Harvard community, serving as a committee member of the Harvard Council on Asian Studies, and a steering committee member of the Harvard Global Equity Initiative and the Harvard China Fund.
Outside Harvard, he has important positions including Chair, Board of Trustees, China Medical Board (CMB) and a board member of the National Committee on US-China Relations and of AMC Entertainment Inc.