1. Serious labor shortage in coastal areas
Although the Chinese economy has been on a gradually declining trend since the second half of last year, it has remained stable.
However, many news media in Japan have emphasized the following: real economic growth was 6.6% last year, the lowest since 1990; car sales fell by 2.8% last year, the first decrease in 28 years; and the growth rate of exports has dropped rapidly since November due to the US-China trade friction. As a result, the impression that the brakes have suddenly been applied to the Chinese economy has started to spread.
I regularly make business trips four times a year, and in the second half of last month, in January, visited Beijing, Shanghai, and Chengdu for two weeks.
When I visited local areas in China, there were lively markets right in front that are quite different from the negative images of the Chinese economy reported by Japan's media as the first low growth in 28 years and the sudden application of brakes.
In China, real estate prices are high in coastal areas, and the purchase of a house is traditionally a precondition for marriage. Houses that young people of marriageable age can purchase are located in inconvenient places far from city centers.
In main inland cities, such as Chengdu, Chongqing, and Wuhan, young people can manage to purchase houses in urban areas. Therefore, many young people move inland, giving up living in coastal areas.
Of course, living expenses are far lower in inland areas.
Reflecting this situation, while the number of farmers who temporarily worked in the eastern coastal areas decreased by 1.85 million last year, that in the western inland areas increased by 3.78 million.
Since it is difficult for companies to hire labor power in coastal areas, new investments in huge plants for automobiles, organic EL, etc. are shifting to inland areas.
Because manufacturers of relevant parts also have to establish production bases in surrounding areas, employment opportunities have been increasing rapidly.
Needless to say, this will accelerate the shift of labor power to inland areas.
In addition, the development of a service-centered economy has become a factor for the labor shortage problem.
Because those of the young generations tend to be fond of the service industry, where they can do office work, rather than the manufacturing industry, where they have to work in factories, it is difficult for the manufacturing industry to secure labor force, resulting in a serious problem of labor shortage.
Due to this situation, the labor shortage problem is more serious than the unemployment problem in the coastal areas, which are regarded as the center of the Chinese economy.
Since competition is fierce in domestic markets in China, many companies were defeated in competition and reduced business volume. However, people unemployed as a result are soon employed by surrounding prospering companies.
As a result, the ratio of job offers to job seekers in urban areas is 1.27, the highest level ever, which indicates a serious labor shortage.
2. Consumption continues to be firm and is leading the Chinese economy
With the employment stability as a background, the level of disposable income has been stable. Although car sales decreased, consumption of other goods continues to be high, excluding very few exceptions.
Two-digit growth has continued, especially in e-commerce and the service industry, such as restaurants, tourism, and telecommunications.
Although there are many small businesses in these industries, it is difficult to grasp small or individual companies statistically and reflect their results in official statistics.
Due to this, it seems highly possible that the increase in consumption is higher than that shown in statistical data.
Moreover, the number of cars sold decreased by 2.8% on the previous year. This is mainly because the preferential tax rate for a small car with displacement volume of up to 1.6 liters came to an end at the end of 2017.
Because there is no such factor this year, car sales are expected to level off or increase slightly, improving the growth of consumption accordingly.
Since 2012, when the Xi Jinping government was established, consumption has been the main pulling power for growth of the Chinese economy.
As clearly shown in the figure, foreign demand has hardly contributed to the growth rate of GDP on average in the past ten years.
Contribution of investments has declined year by year. The contribution of consumption plays a conspicuously great role (the degree of contribution of consumption is 5.0% among the real growth rate of 6.6% in 2018).
Because there is no factor for collapse of firm consumption, many people have the view that the Chinese economy will continue to be stable.
Changes in contribution of each component in the real GDP growth rate (unit: % on the previous year)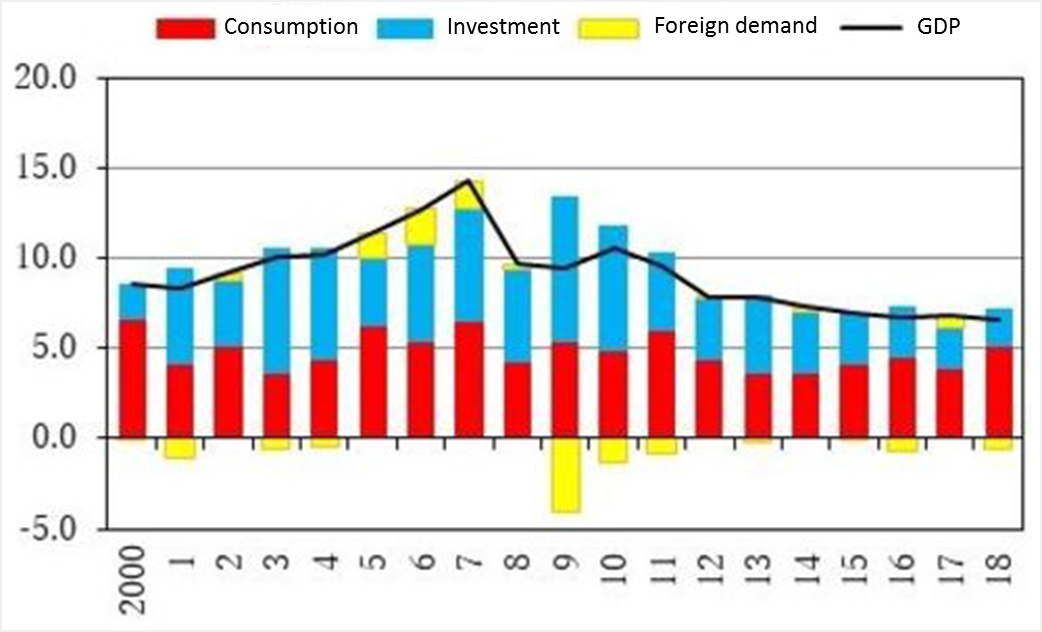 (Source: CEIC)
Since the second half of last year, Japanese media's news and articles about such objective facts have decreased.
Representatives of Japanese companies stationed in China have been strongly dissatisfied with the Japanese media's attitude of not accurately conveying the actual situation of the Chinese economy.
However, because media themselves do not report such critical voices, there is nothing companies can do about it. Head offices' officers in charge are expected to visit China themselves and understand the actual situation with their own eyes.
3. Investments have continued to be stable
As for investments, because control of financial institutions has been strengthened to prevent financial risks, the supply of funds to local governments and private companies through shadow banking and net financing has been restricted and secondary effects of the restriction have appeared on the surface since last year.
Because of this, local governments' fundraising is restricted and growth in the construction of infrastructure slowed. As a result, growth rate on the previous year of fixed asset investments (accumulated since the beginning of the year) decreased last year: 7.4% in Q1, 6.0% in Q2, and 5.4% in Q3. However, it increased slightly by 5.9% in Q4.
This is because of an increase in local bond issues from Q3 and consequent ease of local governments' difficulties in fundraising. This led to a slight recovery of infrastructure construction.
While investments in high technology and technological upgrade are expected to continue to grow highly, the growth rate in private-sector capital investments is expected to become slow, because it takes time to solve the problem of fundraising by private small and midsize companies.
This is expected to be offset by expansion in infrastructure construction as a result of promotion of increased issuance of local bonds.
Since investments in real estate development are expected to be stable against the background of optimization of real estate inventory level, many economists in China have the view that they will continue to be stable this year.
4. It is possible to absorb the downward pressure from US-China trade friction
Because US-China friction caused a last-minute jump in China's exports to the US in the second half of last year, the growth rate has sharply decreased since November last year (on the basis of dollars, exports increased by 15.6% in October on the previous year, increased by 5.4% in November, and decreased by 4.4% in December).
Because of this, exports are expected to decrease in Q1 this year.
The outlook for Q2 and thereafter depends on the results of the US-China negotiations held through March 1. However, many people expect improvement in the second half of this year.
Since the results of the US-China negotiations greatly depend on unpredictable judgment by the capricious US President Donald Trump, no one knows how the negotiations will develop. However, China generally leans towards an optimistic view on this.
As the reasons for the optimism, the following have been pointed out: it is clear that the US economy has been badly influenced by the US-China friction; and President Trump gave a friendly reception during the US-China top-level meeting on December 1 last year.
China's worst-case scenario is an immediate and full-scale increase of customs duties to 25%, while its best-case scenario is the keeping of customs duties at 10%.
To give priority to the promotion of domestic reform, the Chinese Government aims to show a cooperative attitude to solve the US-China friction -continuing friction would hinder domestic reform and prevent the friction from becoming fiercer.
In addition, many people expect China to overcome the resistance of people with vested interest against the promotion of domestic reform, using foreign pressure from the US.
The Chinese Government has proceeded with concrete measures. For example, it has been preparing a bill that incorporates compulsory prohibition of technical transfer from foreign companies. In addition, it has drafted a new law that not only reduces the gap in treatment between foreign and domestic companies but also includes the provision that if a law that influences foreign companies is enacted, it is necessary to seek opinions from foreign companies beforehand and hear public comments.
Although such measures for improving the investment environment that accompany China's cooperative attitude toward the US cast doubt about how much effect they have until they are actually carried out, Japanese companies are expected to see some good effects on their business in China.
China's ratio of exports to GDP exceeded 30% in 2004-08, reaching a peak of 35.4% in 2006.
However, the ratio became less than 19% from 2016 and fell to 18.2% in 2018, slightly more than half of the peak ratio.
In this way, China's export ratio has fallen drastically. In addition, the contribution rate of foreign demand to the growth rate of GDP is -0.1% on average between 2014 and 2018. China's economic growth system has already shifted from export-led to domestic-demand-led (the contribution rate was 0.9% on average between 2004 and 2008).
Given the above, even if exports decrease due to the US-China friction, its influence on the Chinese economy on the whole is likely to be limited. It seems fully possible to absorb downward pressure with measures for expanding domestic demand.
5. It is important to keep the Chinese economy stable
Many corporate executives' mindsets depend on an upward or downward trend in the whole economy rather than the situation of the macro economy as a whole.
Because of this, if the economy continues to be stable, their mindsets are not so bright.
Usually, their mindsets become bright when the economic condition is unsound from the viewpoint of macroeconomic policy and increases risks of economic overheating and asset bubble formation.
However, this is not good for the national economy by all means.
Because the Chinese economy has recently been stable, Chinese corporate executives' mindsets have worsened a little.
In December last year, the manufacturing PMI was 49.4, less than 50 for the first time in the two and a half years since July 2016 (49.9) (on the other hand, the non-manufacturing PMI was 53.8 in December 2018).
However, it is important for the Chinese people and for countries having close relations with China, such as Japan, that the real growth rate be stably kept high at 6%, which cannot be achieved by any other economy power. The Chinese economy has continuously contributed to the world economy.
According to the latest information gained through exchange of opinions with central government officers and economists in China at the time of a business trip in the second half of January, this year's growth rate of real GDP is estimated by most of them to be 6.2 to 6.3% on the previous year.
Many people have estimated that the growth rate will continue to slow down to 6.1% to 6.2% due to a decline in the growth rate of exports in the first half of this year, but it will return to 6.3 to 6.4% in the second half of this year.
If the economy improves in this way in the second half, it can be estimated that next year's growth rate is highly likely to be similar to this year's.
To be sure, it is impossible to deny that there are some risks in the US-China friction, deleveraging, etc. However, it is highly likely that such negative influence can be fully absorbed by measures for expanding domestic demand.
Given the above, there should be worries that rare business chances may be lost by thinking too pessimistically about this year's Chinese economy.
To make important business judgment accurately, it is best for executives themselves to go to China frequently and check the actual economic conditions with their own eyes.
---
(This article was translated from
the Japanese transcript
of Mr. Seguchi's column published by JBpress on February 20, 2019.)