1. Japanese firms, mainly those in the automotive industry, are now more willing to invest in China
Japanese companies' investments in China get into full swing.
Supported by an upturn in the business in China, Japan's foreign direct investment (FDI) in China has begun to record year-on-year growth since the second half of last year (see Chart 1).
Chart 1 Trend in Major Countries' FDI in China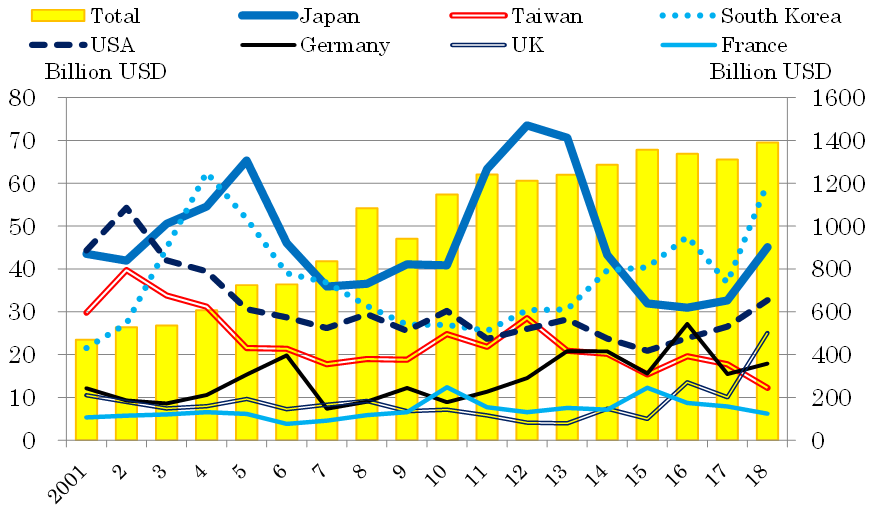 (Note) Data for 2018 is annualized based on the year-on-year growth rate of accumulated figure from January to August.
(Source: CEIC)
Behind the increase in Japan's FDI in China is not only the upturn in the business of Japanese companies thanks to the favorable Chinese economy, which picked up and started following a steady growth path last year, but also the improvement of Japan-China relations.
The momentum of improvement in Japan-China ties has especially been accelerated since early May this year when Premier Li Keqiang made an official visit to Japan, the first time in eight years for a Chinese premier to do so, and clearly stated that Japan-China relations had returned to a normal path.
Against this backdrop, Japanese corporations, among others, those in the automotive industry, are now more willing to invest in China.
Ahead of the start of operations at Honda Motor's third factory in Wuhan scheduled for the spring of 2019, a large number of related manufacturers are currently making investments to boost their production capacity to accommodate an expected increase in output at the factory after the start of operation.
There are rumors that Nissan Motor, whose auto sales in China have continued to be strong, is considering building a new factory in preparation for increasing future production.
Meanwhile, when Premier Li Keqiang visited and inspected a Toyota Motor's factory in Hokkaido during his visit to Japan, the company's president Akio Toyoda himself showed the premier around the factory and had the opportunity to hold a long conversation with him.
It is said that after that, Toyota has taken a much more aggressive stance on its China business and has begun preparations for significant market share increases over the long term, as well as the establishment of systems necessary to boost production to realize these planned share increases.
There is no doubt that Japan's top three automakers are becoming more dedicated to doing business in China, as described above, and that this will have a substantial impact on the activities of all other Japanese automotive-related companies in the country, including auto parts manufacturers.
Moreover, considering that of all investments made in China by Japanese companies, approximately half have been made by automotive-related firms, I believe that it is highly likely that the aggressive stance taken by the latter will encourage all other Japanese companies to act more positively towards investing in China.
2. China's attitude toward attracting Japanese corporations has also changed
In the meantime, the turnaround in China's local government attitude toward attracting Japanese businesses has been achieved at a much faster pace than the change in Japanese corporations' attitude toward investing in China.
I have heard that leaders of local governments who, in making no effort to conceal their indifference toward Japan, stated up until about two to three years ago that they had nothing more to learn from Japanese companies, have made 180-degree turnarounds in attitude and have started to say unashamedly since the beginning of this year that interaction with Japanese companies is important.
This may be an extreme case, but many executives of Japanese corporations stationed in China have begun to feel a shift in China's local government attitude toward encouraging investment by Japanese businesses from negative to positive, which is similar to that seen in the case.
Typical examples of this include a sharp increase in the number of top officials visiting Japan from major cities such as Shanghai and Guangzhou as well as major provinces such as Hubei and Sichuan to host investment briefing sessions held almost daily in Tokyo with the aim of promoting investment in China.
The Chinese government also takes a positive attitude that we would have never imagined before about interaction with Japan, as is witnessed by the fact that it organizes meetings in Beijing and Shanghai to give Japanese corporations details of its new policy of opening the country to foreign business.
The truth is, local governments across China had wanted to put more effort into increasing investment by Japanese enterprises, which are significant contributors to local economic development.
Nevertheless, the territorial dispute over the Senkaku Islands made them believe that interaction with Japan carried high political risk. Consequently, top administrators from almost all local governments were reluctant to interact with Japan.
However, Premier Li Keqiang's recent official visit to Japan, and his remark about the normalization of relations between the two countries during the visit, had a considerable effect in sweeping away concerns over such political risk.
Accordingly, local leaders who had broken off contact with Japan for several years have begun to visit Japan one after another. They now consider interaction with Japan to carry a lower political risk than that with any European country or the U.S.
3. China's policy of further opening up to the outside world
The turnaround in China's attitude toward attracting Japanese businesses goes beyond just increasing the number of investment seminars held in Japan and explanatory meetings for Japanese companies based in China.
At the opening ceremony of the Boao Forum for Asia held in April, President Xi Jinping revealed China's new policy of opening up its markets to foreign investment.
An announcement on relaxing restrictions on Japanese firms associated with Premier Li Keqiang's visit to Japan is an extension of that new policy.
Specific measures of relaxation taken up thus far by Chinese authorities include permission for Nomura Securities to set up a company in China with a 51 percent stake and discussions on whether to allow Japanese financial institutions to underwrite corporate mainland bonds.
President Xi Jinping's speech delivered at the Boao Forum for Asia is positioned as the announcement of China's commitment to accelerating the implementation of measures to further open its markets to foreign investors, including market-oriented reforms and deregulations, highlighted at the 19th Party Congress.
However, the majority of government officials and business people in Europe and the U.S. do not see the speech as such; they think that as is always the case with China, it is just rhetorical commitment and that nothing will actually change.
On the other hand, Japanese companies see the speech slightly differently.
A lot of Japanese business people expect that the Xi Jinping administration, which succeeded at the 19th Party Congress in establishing a solid political power base, will be able to push ahead with a variety of reforms, exercising a further stronger political power than before.
Also, in Germany where the business community as a whole has toughened its stance on Chinese investment, some leading companies are changing their perception about Beijing's attitude.
This is because the Chinese government has put in place some measures to open up the market, including its decision to allow a German firm to establish its 100% owned enterprise in the domestic chemical industry (which is a sector in which establishing foreign owned enterprise has thus far been prohibited) to build a large-scale plant in China.
As seen above, not only are China's local governments now actively promoting foreign investment, but the central government itself is making a dramatic policy shift to focus on the opening up of its door to the outside world.
It is important for Japanese enterprises planning to invest in China from this point onwards to take this overall situation into account and grab a range of new opportunities that may arise as a result of the country's policy shift.
4. Management issues faced by Japanese corporations
The boom of Japanese companies' FDI in China occurred mainly during the 2001-2005 period and the 2010-2012 period. In the latter period, there were many cases where capital was increased in association with the consolidation of a number of subsidiaries in China into one.
However, there were few cases in which investment was made to significantly increase production capacity.
If the recent investment boom gets into full swing, it is highly likely that manufacturing capacity will be sharply boosted, primarily in the automotive industry, indicating that it will turn out to be the first full-scale investment boom in 13 years, since the last one that ended in 2005.
In 2005, the income level in China was low. Products sold by Japanese companies in Japan were unaffordable for common folks, even though they knew they were of high quality.
The chief objective of Japanese companies investing in China was to cut production costs by using cheap labor.
However, with China's current wage being more than five times higher than that in 2005, we cannot find cheap labor anywhere in the country.
On the contrary, with more than 8 million Chinese tourists traveling to Japan a year these days, it has become common for them to indulge in shopping sprees before returning home, as most products are cheaper in Japan than in China.
Japanese corporations doing business in China now aim to provide Chinese customers with products and services having the same level of quality as their counterparts provided in Japan, and at the same time meeting Chinese customer needs.
In that sense, products and services produced by Japanese firms in the previous boom of FDI in China in 2005, and those in the recent boom, are completely different in terms of both content and price.
During the previous investment boom, many Japanese companies were able to take advantage of lower-cost workers and increase sales, as long as they appropriately carried out production management which they were good at.
Under the current circumstances, however, it is not that simple. Companies incapable of utilizing R&D activities to produce goods and services that meet the rapidly changing and diversified needs of Chinese customers, as well as exploring new business opportunities in the Chinese market in an appropriate manner, have no chance of increasing sales.
What is required of Japanese companies now is marketing skills to stay competitive in the global marketplace in which they fall short.
China's gross domestic product (GDP) was less than half of Japan's in 2005, but is currently more than 2.5 times larger.
Taking this difference into account, I believe that Japanese companies that succeed in doing business in China this time will reap a far greater profit than that in 2005 and the size of their investment will be huge.
However, as only a few Japanese corporations have actually succeeded in expanding their sales channels in the Chinese market, not many are in a position to increase their investments, unlike in the case of the previous investment boom.
In that sense, the recent boom of FDI in China is very different from those Japanese firms have so far experienced.
A company that can achieve success at investment is one that can respond to globalization properly and implement a marketing-oriented business strategy.
The increase in Japanese businesses' investment in China will serve as a litmus test for identifying their real global management skills.
---
(This article was translated from
the Japanese transcript
of Mr. Seguchi's column published by JBpress on August 22, 2018.)