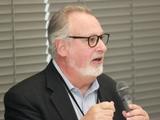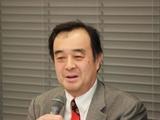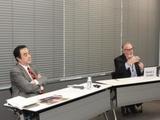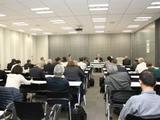 (Mr. Sneider, Mr. Miyake from the left)
Seminar outline
Title: "The 2nd. U.S.-North Korea Summit talks"
Speakers:
Daniel C. Sneider, Lecturer, International Policy at Stanford University
Kunihiko Miyake, Research Director, CIGS
Program
ProgramPDF: 149KB
Aim of this seminar
United States President Donald Trump and North Korean leader Kim Jong Un are set to meet in Hanoi, Vietnam on Feb 27 and 28. While North Korea has refrained from testing missiles or nuclear devices since the two leaders met in Singapore, June last year, has the Hanoi Summit yielded any further progress in the accomplishing the goal of "denuclearization"? What are the implications of the outcome of the Hanoi Summit for security in Northeast Asia and for Japan?
Mr. Sneider and Mr. Miyake will discuss this topic freely in a dialogue format.

Speakers' profile
DANIEL C. SNEIDER, Lecturer, International Policy at Stanford University
Daniel C. Sneider is a Lecturer in International Policy at Stanford University. He was previously the Associate Director for Research at the Asia Pacific Research Center at Stanford, where he directed the Center's Divided Memories and Reconciliation project, a comparative study of the formation of wartime historical memory in East Asia. He is currently a Visiting Researcher at the Canon Institute for Global Studies in Tokyo, where he is working on a diplomatic history of the creation and management of the U.S. security alliances with Japan and South Korea during the Cold War. Sneider is the co-author of a book on wartime memory and elite opinion, Divergent Memories, from Stanford University Press. His writings frequently appear in major publications including The New York Times, The Washington Post, Slate, The Christian Science Monitor, Yale Global, The National Interest, International Economy, Toyo Keizai and The Asahi Shimbun. He is a former foreign correspondent for The Christian Science Monitor who served in Japan, India, and the former Soviet Union, and covered U.S. politics and elections for the Monitor and the San Jose Mercury News.

KUNI MIYAKE, Research Director for Foreign and National Security Affairs, CIGS
Kuni Miyake is the Research Director for Foreign and National Security Affairs at the Canon Institute for Global Studies. He is also a Visiting Professor at Ritsumeikan University. In 2006-2007, he was Executive Assistant to Akie Abe in the Office of the Prime Minister of Japan. Miyake joined the Ministry of Foreign Affairs in Japan (MOFA) in 1978. Until he left MOFA in 2005, he served in a number of senior positions, including Deputy Director-General of the Middle East Bureau; Minister at the Embassy of Japan in Iraq and Japan's Representative to the Coalition Provisional Authority (CPA); Charge d'Affaires at the Embassy of Japan in Iraq, Minister for Public Affairs at the Embassy of Japan in China; and Directors of Japan-U.S. Security Treaty Division, First Middle East Division and Second Middle East Division in MOFA. He graduated from the Law Faculty of the University of Tokyo.