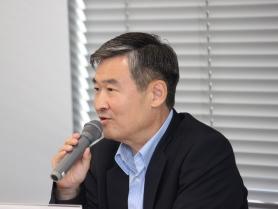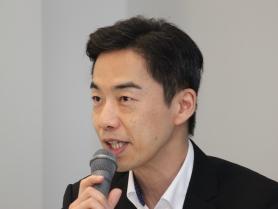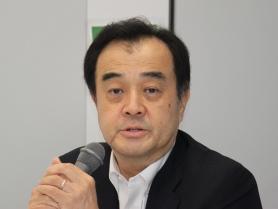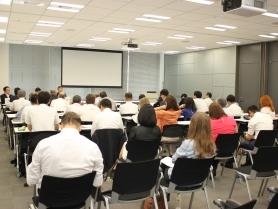 (Mr. Cho, Mr. Nishino, Mr. Miyake from the left)
Seminar outline
Title: "Security Challenges in the Post "Trump - Kim Summit" Northeast Asia"
Speaker:
Tae-Yong Cho, Former Deputy Director of National Security Office, Republic of Korea
Junya Nishino, Professor, Keio University
Moderator: Kunihiko Miyake, Research Director, CIGS
Program
ProgramPDF: 325KB
Presentation
Presentation by ChoPDF: 93KB
Presentation by NishinoPDF: 208KB


Abstract of the Speech
After the historic US-DPRK summit, both Japan and the Republic of Korea (ROK) may confront new challenges for their national security. Although the US-DPRK joint statement does not specifically refer to the CVID (Complete, Verifiable, Irreversible, Dismantlement) of DPRK's nuclear arsenal, President Trump announced, without prior consultation with South Korea, that the US-ROK joint military exercise would be suspended.
Our guest speakers are Ambassador Tae-Yong Cho, South Korea's distinguished former career diplomat, and Dr. Junya Nishino, professor of Keio University. They are kindly requested to talk about the future of Northeast Asia's security challenges after the US-DPRK summit meeting on June 12 in Singapore.
Speaker's profile
Tae-Yong Cho
First Deputy Director of National Security Office, the Blue House, 2015 - 2017
First Vice Minister, Ministry of Foreign Affairs, 2014 - 2015.
Director General of the South Korean foreign ministry's Task Force on North Korea, 2013 - 2014
Ambassador to Australia, 2011- 2013

Junya Nishino
Professor, Department of Political Science, Faculty of Law, Keio University
Director, Center for Contemporary Korean Studies, Keio University

Kuni Miyake
Research Director, the Canon Institute for Global Studies