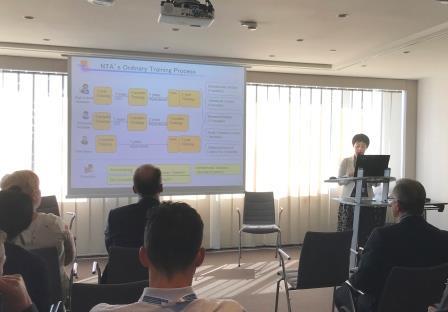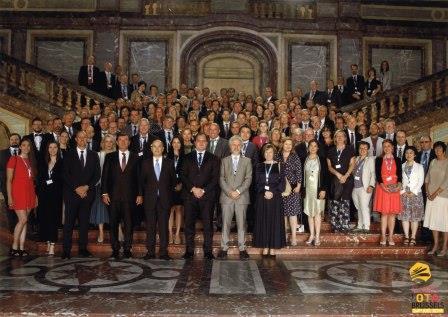 Megumi KASHIWAGI, Research Director of the Canon Institute for Global Studies(CIGS), was invited to 23rd General Assembly of IOTA(Intra-European Organisation of Tax Administrations):"Are Tax Administrations Ready for the Tax Official of Tomorrow?" which was held from July 2 to 4 and gave a presentation in Session 4b:Closing the knowledge & skill gaps.
●Abstract of the Speech
Japan is facing an aging society ahead of other countries. There has been a decrease in the working-age population and an increase in the number of people aged 65 and older. In addition, depopulation is a serious problem.
Japan has a world-class tax training system such as the National Tax College and the National Autonomy College. Tax officials receive extensive training and become experts. However there is room for improvement in the training system.
Digitalization is one of the solutions to the aging society in Japan. Digitalization is a means for the governments to cover manpower shortages and to improve work efficiency. For taxpayers, it is a means to improve convenience and to support their daily life.
Digitalization is a key policy for Japan moving forward. I believe that these efforts will be expanded in the future due to the user-friendliness of the system. But Japan's digitalization needs to be improved further, so that we could become more efficient.
Tax officials will use the time saved by digitalization to improve the audit of difficult cases and collaborate with other countries to combat BEPS and other tax avoidance.
●Q&A
Question1: How does the National Tax Administration Agency (NTA) utilize digital instruments, like e-learning modules, to close the knowledge gap in key tax administration functions?
Answer 1: I think that the NTA recently uses many types of e-learning. Regarding IT security, all NTA staff have to take this online module once a year. So, regarding the NTA's IT operating system and the accounting system, staff attend training and get on the job training as well as e-filing and the call center operations. The NTA has the knowledge portal web site including various operating manuals. All staff can check them on the website or print them out.
The NTA has lectures on the basic IT for new employees at the National Tax College. As I said, the NTA's IT professional certification lectures are the equivalent of a basic training course of IT professional Certification. The NTA's lectures are excellent quality.
In addition, personally, I highly recommend RPA.
I think RPA is good digital instrument to automatize and normalize job processes. People tend to over-complicate tasks. RPA eliminates unnecessary processes and improves productivity.
People will use the extra time to improve work-life balance. The NTA has been considering the utilization of RPA.
Question2: Does the NTA use any kind of knowledge management system?
Answer2: I think the NTA has various IT and non-IT knowledge management systems such as various business process systems, in addition to its accounting system and Human Resources system.
As I said, The NTA has its knowledge portal web site including various operating manuals. All staff can check them on the website or print them out.
So, regarding the NTA's IT operating system, the so-called KSK system, there is a business process management system, quality management system and data warehouse.
All staff can access different data from the KSK system. Charts and graphs are made using data from the KSK system.
Finally, in my opinion, communication, collaboration and mutual understanding are important to make a success of knowledge management systems.