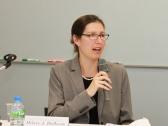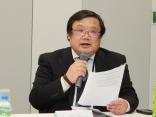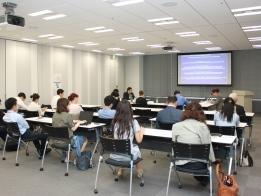 (Ms. Holbrow, Mr. Kurihara from the left)
Workshop outline
Title: "Bringing Outsiders In: The Case of Women and Foreign Workers in Elite Jobs in Japan"
Presenter: Hilary J. Holbrow, International Research Fellow, CIGS
Moderator: Jun Kurihara, Research Director, CIGS
Program
ProgramPDF: 154KB
Presentation slides
Presentation by Ms. HolbrowPDF: 271KB
*Slides illustrate preliminary results from the author's work-in-progress on diversity in Japanese firms.
Presentation by Mr. KuriharaPDF:106KB
Speech summary
Speech summary by Ms. HolbrowPDF:246KB
Abstract of the Speech
Japan's population is declining and labor shortages are becoming increasingly severe. This high labor demand is opening new avenues for women and foreign workers' promotion to the elite jobs that have historically been monopolized by Japanese men. Who will benefit the most from these new opportunities and why? On one hand, Japanese women have the human capital and cultural know-how to advance in Japanese firms, as well as the advantage of incumbency. At the same time, long working hours and gender stereotypes may negatively affect women more than foreign workers. Using employer-employee matched data, Dr. Holbrow will show which outsider groups are getting ahead the fastest in corporate Japan and why.
Speaker's profile
Hilary J. Holbrow Postdoctoral Fellow, Weatherhead Center for International Affairs, Harvard University
International Research Fellow, CIGS

Education:
2014.01-2017.05 Doctor of Philosophy, Sociology Department, Cornell University, Ithaca, USA
2011.08-2013.12 Master of Arts, Sociology Department, Cornell University, Ithaca, USA
2008.09-2009.06 Inter-University Center for Japanese Studies, Yokohama, Japan
2003.09-2004.04 Kyoto Consortium for Japanese Studies (formerly Kyoto Center for Japanese Studies)
2001.09-2005.05 Bachelor of Arts, East Asian Studies, Boston University, Boston, USA

Career:
Hilary Holbrow is a Postdoctoral Fellow in the Program on U.S.-Japan Relations at Harvard University and an International Research Fellow at the Canon Institute for Global Studies. Her research focuses on diversity in Japanese firms. She examines how Japanese firms integrate women and highly skilled foreign workers, and how they can create a positive work environment for employees of all backgrounds. As Japan's population declines, this research illuminates how Japanese firms can best attract, retain, and use a diverse workforce to maintain their existing advantages amidst intensifying global competition.

Dr. Holbrow earned her Ph.D. from the Department of Sociology at Cornell University. She has also worked as a Research Assistant at Harvard University's Program on U.S.-Japan Relations, as a Coordinator for International Relation for Japanese local government in Okinawa, and as a Press Assistant at the Embassy of Japan in Washington, DC. Her research has received support and recognition from the Japan Society for the Promotion of Science, the Fulbright Foundation, the U.S. National Science Foundation, the Japan Foundation, the Blakemore Foundation, and the Center for Economy and Society, the Center for the Study of Inequality, and the East Asia Program at Cornell University.
---
CIGS Workshop is a presentation of the progress for the study which CIGS researchers are doing. They take comments from other researchers, advisors, and outside commentators, and they make use of them for their future study.