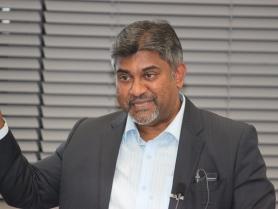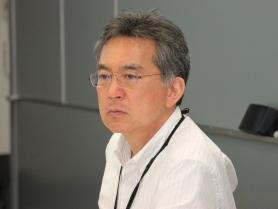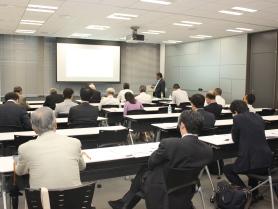 (Dr. Velautham, Mr. Yoshikawa from the left)
Seminar outline
Title: "Energy Outlook and Challenges of ASEAN"
Speaker: Sanjayan Velautham, Executive Director of the ASEAN Centre for Energy (ACE)
Moderator: Hisashi Yoshikawa, Research Director, CIGS
Program
ProgramPDF:330KB
Presentation
Presentation by Dr. VelauthamPDF:1767KB
Summary of the speech
Summary of the speech by Dr. VelauthamPDF:171KB Newly added
Speaker's profile
Sanjayan Velautham
Sanjayan Velautham was appointed as the Executive Director of the ASEAN Centre for Energy (ACE) in January 2015 reporting directly to the Governing Council consisting of Leaders of the Senior Offices on Energy from the ASEAN member states.
Sanjayan Velautham has more than 25 years' experience in the industry, academia and research institutes. A registered professional engineer (P. Eng.), with a doctoral degree in Engineering and involved in the energy industry for about 15 years and 10 years of research/teaching experience at Kyushu University, Japan and University Technology Malaysia.
Before taking the assignment as Executive Director, he had worked in Singapore initially with Agency of Science, Technology and Research (A*STAR) as a Deputy Director and then with General Electric as Country Manager for the Power Generation Services business. He had started his career with Tenaga Nasional Bhd. in Malaysia within the Power Generations Division. He had also served as the National Project Manager for the BioGen Project for United Nation Development Programme (UNDP - Malaysia).
Sanjayan has authored several publications, in international conferences, journals and subject modules particularly in the field of energy. He was also a panel member in preparing the Thermal Energy Efficiency Guideline for Malaysia. His interest among others is to continue to engage in the strategy and policy research related to Sustainable Energy Development within the ASEAN region.