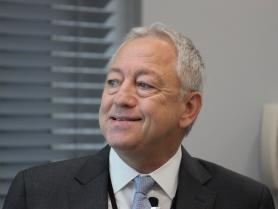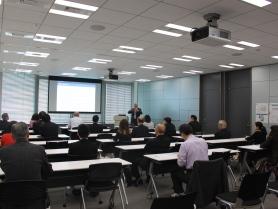 (Professor Selahattin Imrohoroglu)
Seminar outline
Title: "Can Guest Workers Solve Japan's Fiscal Problems?"
Speaker: Selahattin Imrohoroglu, Professor of Finance and Business Economics, Marshall School of Business, University of Southern California / CIGS International Senior Fellow
Program
ProgramPDF:62KB
Presentation
Presentation by Professor ImrohorogluPDF:1512KB
Related column
Guest Workers: Japan's Solution to Aging?
Abstract of the Speech
The labor force in Japan is projected to fall from about 64 million in 2014 to near 20 million in 2100. In addition, large increases in aging related public expenditures are projected which would require unprecedented fiscal adjustments to achieve sustainability under current policies. In this paper, we develop an overlapping generations model calibrated to micro and macro data in Japan and conduct experiments with a variety of guest worker and immigration programs under different assumptions on factor prices and labor productivities. Against a baseline general equilibrium transition which relies on a consumption tax to achieve fiscal sustainability, we compute alternative transitions with guest worker programs that bring in annual flows of foreign born workers residing in Japan for 10 years with the share of guest workers in total employment in a range between 4% and 16%. Depending on the size and skill distribution of guest workers, these programs significantly mitigate Japan's fiscal imbalance problem with a relatively manageable and temporary increase in the consumption tax rate.
Professor Selahattin Imrohoroglu's profile
1988 University of Minnesota, Department of Economics, Ph.D., Economics
1981 Middle East Technical University, Department of Economics, M.S., Economics
1980 Middle East Technical University, Department of Economics, B.S., Economics
2011 - 2013 Academic Director and Assistant Dean, IBEAR MBA Program, Marshall School of Business, University of Southern California
2000 - present Professor of Finance and Business Economics, Marshall School of Business, University of Southern California
1995 - 2010 Associate Professor of Finance and Business Economics, Marshall School of Business, University of Southern California
1987 - 1995 Assistant Professor of Finance and Business Economics, Marshall School of Business, University of Southern California
Short-Term Visiting Positions Bank of Japan, Federal Reserve Banks of Atlanta and New York; University of Minnesota, Stern School of Business NYU