Denmark was fully dependent on fossil fuels when the two oil crises hit in the 1970s. The deep economic crisis led to a target of energy security through self-sufficiency and independence from the Middle East, substituting oil for coal in the power plants and taking advantage of domestic oil and gas supplies in the North Sea. However, the domestic oil and gas was challenging to extract and limited in quantity. Therefore, the strategy was to increase energy efficiency and energy savings, while also exploring alternative renewable energy sources.
In the late 2000s, the Danish attention to climate change rose and intensified efforts to exploit renewable energy. Combined with increasing energy efficiency and energy savings, this has resulted in a stable energy consumption and lower carbon emissions even though GDP has grown substantially. The CO2e emissions were reduced by 40% from 1990 to 2019, mainly due to district heating and electricity generation which earlier accounted for 30-40% of CO2e emissions but only 11% in 2019.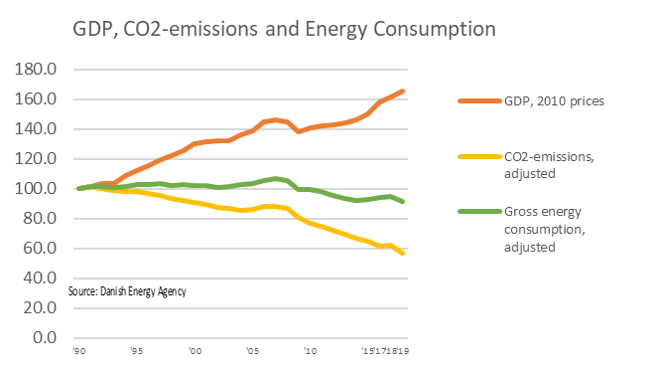 Renewable energy accounted for 82% of the electricity production in 2019 (wind, solar, biomass, and biogas). When focusing only on domestic supply of electricity, renewable energy accounted for 67.5% which includes a wind power share of 46.8%. Today, the Danish company Vestas is the world's leading manufacturer of wind turbines while Ørsted is the largest offshore wind energy developer. As regards the total Danish energy consumption, coal is almost phased out and the share of renewable energy increased from 11% in 2000 to 38% in 2019. However, there is still far to go as oil and natural gas continues to be important energy sources with shares of 37.6% and 15.1%, respectively.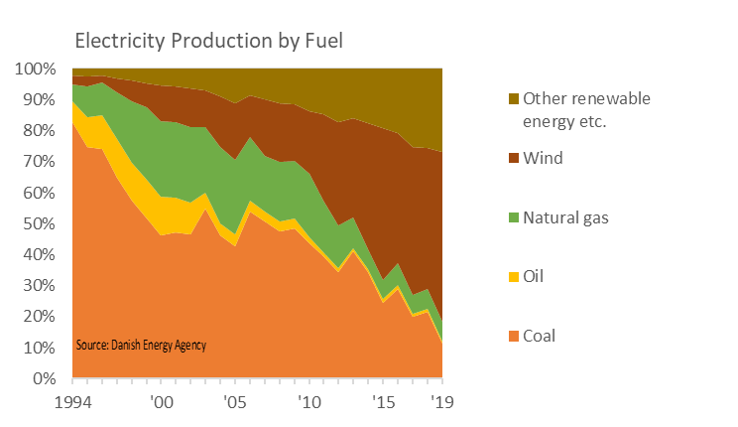 In June 2020, the Danish Climate Act was adopted which includes the targets of climate neutrality by 2050 and a reduction in greenhouse gas emissions by 70% in 2030 as compared to 1990. The 70% target is ambitious since greenhouse gas emissions are to be further reduced by 20 million tonnes CO2e by 2030. However, policy measures adopted since June 2020 are projected to reduce greenhouse gas emissions by 10 million tonnes CO2e in 2030, implying emission reductions of more than 55% by 2030.
4 key features of Danish climate and energy policies over the past 4 decades are highlighted:
Political framework Integrating climate and energy policies and applying strong coordination between the Danish Ministry of Climate, Energy and Utilities and other relevant Ministries. Setting ambitious climate targets, including 10 year-targets since a 2050 target precludes reliable projections and risks postponing the necessary measures. Establishing broad political support for forward-looking energy policies to ensure regulatory stability and predictability, facilitating the long-term private investments necessary. Establishing a systematic approach through the Climate Act, imposing a duty-to-act upon the Danish Minister for Climate, Energy and Utilities, annual evaluations by the independent experts of the Danish Council on Climate Change (DCCC), and involvement of the Danish Parliament.
Whole-of-society approach Engaging in public-private partnerships, including agreements with the energy sector and energy-intensive industry to increase energy efficiency and renewable energy. Involving universities and other experts, including the DCCC. Involving municipalities as responsible for identifying suitable areas for sustainable onshore energy projects. Raising awareness in the public, e.g., through energy labeling, and mobilizing the public through the establishment of a Citizens' Assembly and a Youth Climate Council. Engaging in international cooperation to learn from others and share Danish experiences.
Holistic approach Addressing both supply and demand through expansion of renewable energy on one side and increased energy efficiency and energy savings on the other side. Applying both regulatory requirements and economic incentives to promote renewable energy and energy efficiency, and to reduce greenhouse gas emissions. Internalization of the external environmental costs of emissions via direct CO2e taxation and participation in the EU emissions trading system. Applying policy measures across different sectors (electricity generation, heating, transport, buildings etc.). Utilizing renewable energy and electrification to facilitate a green transition in sectors other than the energy sector.
Energy policy strategy Targeting energy efficiency and savings: building requirements for existing/new houses; energy-saving requirements for public buildings; economic incentives, including taxation, subsidies, and grants; energy efficiency agreements with large energy-intensive businesses, powerplants and power distributers; and competitive energy markets. Promoting renewable energy, in particular wind power: economic incentives; public planning requirements; tenders to establish offshore wind farms; and agreements with the electricity companies to develop the grid and ensure that new wind turbines can always be connected.
The energy sector has been and continues to be key to the energy transition. The energy sector is no longer the largest emitter and expects to reach 95% emission reductions by 2030 compared to 1990. Heating and electricity generation has been integrated; district heating has been developed; and renewable energy continues to be promoted while energy security and flexibility in the energy system is ensured by developing the transmission grid domestically and establishing interconnectors to neighboring countries. The energy sector will facilitate the green transition in other sectors, e.g., by supplying electricity to produce hydrogen (PtX).
The key to reaching the 70% target is electrification based on renewable energy, and adequate and timely development of the energy infrastructure, underpinning a green transition in all of society. The Danish energy sector has outlined that the 2030 climate target is reachable and estimated that investments of 32 billion DKK annually is required towards and including 2030. The Danish financial sector has announced that it will invest 350 billion DKK in the green transition up to 2030. The main challenge will be whether the regulatory framework is in place in due time to allow for the long-term planning required for the large investments. The 2030 target is challenging but further measures are underway, and the systematic approach of the Climate Act applies constant pressure on the Government-in-office to act with due diligence.