No quid pro quo for its superb hospitality
US President Donald Trump came to Japan on May 25 at the invitation of Prime Minister Shinzo Abe. Playing golf, watching sumo, and meeting with the Emperor and Empress...is there any foreign VIP other than Trump who has received such lavish entertainment and hospitality? I'm no history buff, but I cannot think of any such foreign VIP. The people of Japan must be proud of accepting Trump as the first state guest in the Reiwa era despite all the calls for impeaching him in the US Congress for his alleged cover-up of Russia-gate. It seems as if they will continue to be proud of having accepted him as a US leader endowed with both integrity and dignity.
What will the Japanese people get in return?
If a majority of the Japanese people agreed that the noble-minded Japanese should not ask for anything in return, that would be the end of the story. However, the Japanese people must be expecting something from President Trump in return, given that much of their tax money was spent to extend such splendid hospitality to a person they don't know in person. Surely the Japanese government did not invite Trump just to hear the same mantra or cliché : "the Japan-US Alliance is more robust than ever before."
Abe entertained Trump lavishly and gave him generous gifts, including the promise to buy 105 F35s, the state-of-the-art US stealth fighters. Yet I cannot think of much of a gift that Trump gave to Abe.
The only gift Japan received may be the remark Trump made that what is agreed in Japan-US trade talks will be released in August, not before the House of Councillors election in July, at the request of Abe.
The release of the agreement before the July election may adversely affect the election results with the ire of Japan's agricultural industry. Is it that the Japanese people should be thankful of the US for postponing the release for the convenience of the Abe administration?
Japan-US trade talks must have already reached an agreement
On top of that, the very remark President Trump made seems to contain a nuance that cannot be ignored.
Japan-US trade talks are still ongoing. Japan's Minister of Economic Revitalization Toshimitsu Motegi and US Trade Representative Robert Lighthizer have yet to iron out the differences. And it is reported that these differences have not been narrowed. Normally, when government officials mention ongoing negotiations, they may say they will seek to reach an agreement by a specific point in time; however, they may not say they will be announcing an agreement in August.
Trump suggested that an agreement will be announced in August. This must mean that Tokyo and Washington have already reached an agreement and that they will postpone the announcement of it until August so as not to affect the upcoming House of Councillors election.
In all likelihood, Japanese and US negotiators, headed by Motegi and Lighthizer, have almost worked out an agreement with the approval of Trump and Abe. Otherwise, Trump would not have said, "I think we will be announcing some things, probably in August."
On May 26, President Trump tweeted: "Great progress being made in our Trade Negotiations with Japan. Agriculture and beef heavily in play. Much will wait until after their July [upper house] elections where I anticipate big numbers!"
What has been agreed?
On the joint statement the Japanese and US leaders announced last September, I wrote the following in my earlier article "An urgent review of the Japan-US summit meeting on trade": "Japan ended up yielding to the threat of the US raising auto tariffs for the benefit of US national security, unjustifiable and inconsistent on WTO principles. Concluding an FTA that includes agricultural products means making concessions to the US to an extent comparable to the TPP." An agreement will likely be along these lines.
As I have often pointed out, US farm products such as beef have been in a disadvantageous position as compared to products of Australia, Canada and EU, since the TPP 11 and the Japan-EU Free Trade Agreement took effect. Moreover, the longer it takes for the US to reach an agreement, the more disadvantageous US farm products will become as the following chart shows. Rectifying this disadvantage is a major goal for Washington.
On the other hand, there is no reason for Japan to bring the negotiations to a successful conclusion. Japan has a dominant upper hand in the talks. Despite all this, Tokyo will be conceding farm tariff reductions that are on par with the TPP in return for Washington refraining from raising auto tariffs.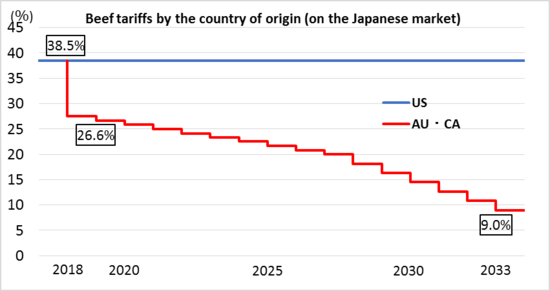 It is worth noting here that if the US raises auto tariffs beyond the level promised to the WTO in the name of national security, that constitutes a violation of WTO rules, as I argued in "Did not want to see Abe's US visit ― Japan's overly lenient trade talks with the US." Refraining from doing so only means not violating WTO rules. This cannot be a concession from the US in return for Japan conceding farm tariff reductions to the US that are on par with the TPP.
Will the US abolish auto tariffs?
This is not the end of the story. The US is reportedly showing reluctance to abolish its tariffs on autos and auto parts it once conceded to Japan. In the TPP talks, the US had agreed to phase out the 2.5% auto tariff over a 25-year period (the first round of reduction will not be made for another 15 years) and abolish the auto parts tariffs.
This reluctance is probably a diplomatic pretense. Japanese and US negotiators must have already pledged to maintain these tariffs at the levels agreed in the TPP talks. If Japanese negotiations have failed to gain this small concession from the US counterparts, they are open to the criticism of being incompetent. If that is the case, Motegi only needs to walk away from the negotiating table. This may result in US products being driven out of Japan's farm produce market. It is the US that will be in trouble.
An auto tariff of 2.5% may seem low, but its impact is high. In order to sell its products in the US market, Japanese automakers manufacture luxury cars such as Lexus in Japan and export them to the US while assembling mass-market vehicles in the US from the beginning. As far as luxury cars--whose unit prices are high--are concerned, a tariff of 2.5% translates into an additional cost of one billion dollars (about 110 billion yen) for Japanese automakers. This is why the US auto industry as represented by Ford opposed abolishing this tariff in the TPP talks, arguing that such abolition is like providing the Japanese auto industry with a subsidy of one billion dollars every year.
A Japan-US free trade agreement (FTA) is something that Japan had no need to negotiate. Japan just agreed to negotiate at the request of the US, which unilaterally withdrew from the TPP and thus got into trouble over farm produce. Being in a far better position, Japan should have demanded an immediate abolition of the auto tariffs rather than a 25-year phase-out as agreed on in the TPP talks.
Why couldn't Japan do that?
This is because Shinzo Abe and other Japanese government officials became timid before their US counterparts.
Unmindful that it had the upper hand, Japan subjectively assumed that in bilateral negotiations, the US would demand more concessions than once agreed on in the TPP talks. As such, Japan made resisting such demand its primary goal in bilateral negotiations. This was reflected in the Japan-US joint statement announced last September. Bilateral talks were now not over whether Japan would concede any farm tariff reduction to the US; they were over whether Japan could resist the US demand for more concessions beyond the TPP levels.
If Japan finds itself making concessions on a par with the TPP levels, should Japan have called on the US to return to the TPP as Japan did earlier?
Japan may make concessions beyond the TPP levels
Japan may go even further.
In his visit to the US in April, Prime Minister Abe showed President Trump plans of Toyota Motor Corporation and other Japanese companies making investment in the US. Abe reportedly showed a chart that highlighted, with a different color, plans to invest in the regions that will sway the presidential election, such as the Rust Belt in the Mid-West and the swing states (states where both the Democratic and Republican presidential candidates have a good chance of winning). This is a big present for Trump as he prepares for the presidential election next year.
Trump can use this concession from Japan to his advantage in his election campaign. This constitutes electoral support for Trump from Japan's prime minister.
Past Japanese prime ministers also enjoyed a rapport with their American counterparts. Good examples include the close relationship between Yasuhiro Nakasone and Ronald Reagan known as the "Ron-Yasu" friendship, as well as that between Junichiro Koizumi and George W. Bush. But I can't think of any other Japanese prime minister who engaged in such electoral cooperation.
My concern is that this may not be the end of the story.
The decision to not disclose the results of the talks before the July election while Japan's farm industry shows readiness to accept TPP-level concessions may be an indication that an agreement will contain further concessions that will hurt the industry.
Even if that is not the case, Tokyo used the July election to make a strong case that it will not concede beyond the TPP levels. Once the July election is over, however, Tokyo will no longer be able to use this card. This is even more the case if the House of Representatives election is held concurrently.
Let us assume that what has been agreed does not contain concessions beyond the TPP levels. Even so, what will Abe do if Trump eventually demands even more concessions in relation to farm produce and cars in order to win the presidential election next year?
As has been often the case, Trump changes his mind on a whim; he may fail to deliver on what he has promised. Moreover, Trump is preoccupied with himself and the presidential election in particular. Trump may not feel obliged to return a favor for the lavish hospitality he received in Japan. On the contrary, he may be impudent enough to call for more concessions from Japan if he thinks he needs them to win the election. Can Shinzo Abe reject such demands from Trump?
If Japanese government negotiators complacently think that things are going as they planned, some calamity will happen in August or later.
---
(This article was translated from
the Japanese transcript
of Dr. Yamashita's column in "RONZA" on May 27, 2019.)